Do you want the beautiful look of natural stone or wood flooring but are less than enthused about the steep prices and long installation time? Laminate floor installation was developed for style-conscious, budget-oriented property owners such as yourself. Consistently growing in popularity since its inception, laminate flooring is composed of several materials that have been bonded by heat and pressure to bring you a durable, attractive flooring option at a great price. Depending on your chosen type and brand of laminate floor, these layers often include:
A clear, protective top layer intended to block stains and protect the floor
A decorative layer featuring a high-resolution image, often bamboo, stone, or wood
A core layer made of wood composites
A back layer to stabilize the laminate installation
Offering myriad looks from stone laminate to wood laminate, Royal Flooring can bring you top-quality installation on this high-tech flooring option. Let our professionals provide expert laminate installation in your home or office—call today!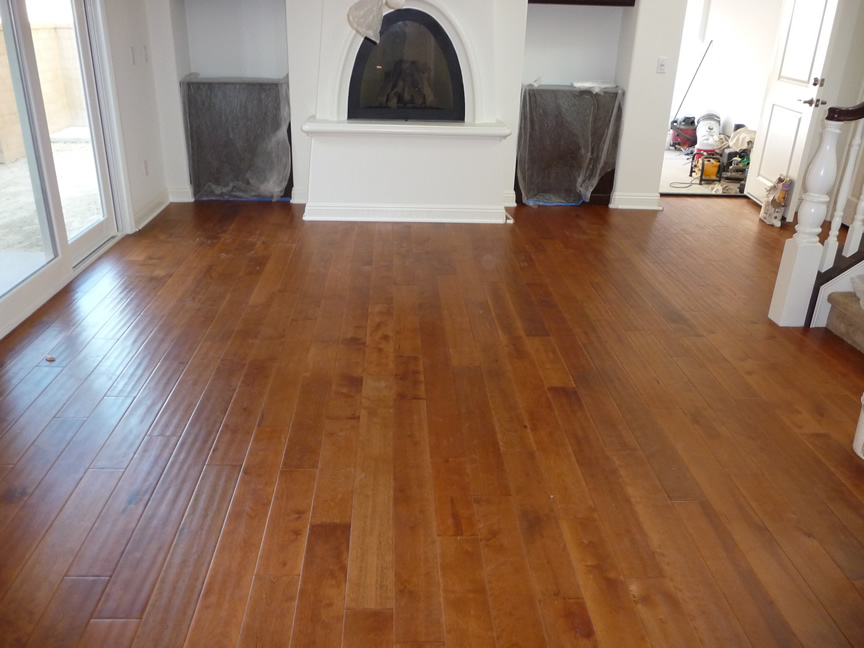 Whether you're interested in installing laminate wood floors or desire another one of our great options, the laminate installers at Royal Flooring are dedicated to bringing you the highest-quality products and workmanship that will look great and hold up well over time. Every member of our laminate installer team is knowledgeable in the installation steps that are necessary to ensure your complete satisfaction, and we make certain to do the job right from start to finish. We will take care of you every step of the way and educate you on the laminate floor installation process. Some of the steps our laminate installers take to bring you a long lasting, perfect look include:
Staggering joints to create a pleasing appearance that will also add strength to the wood laminate installation
Properly fitting all planks in regard to obstacles such as fireplaces, doorjambs, and baseboards
Preparing your subfloor by sweeping it clean of debris and laying any necessary underlayments
Trimming planks to fit
Laminate wood floor installation is considered a "floating floor," which means that the floor is actually not affixed to your building or subflooring itself. Instead, the laminate is held to itself via snap-together tongues and grooves: you get a sturdy, durable floor without having to deal with nails or glue! This makes installing laminate wood floors faster than installing traditional hardwood floors and it means easier removal if you decide to remodel down the road. Laminate flooring is nail-free, sanding-free, and stain-free. Laminate floor installation makes a convenient, attractive accent to any property.
Vinyl Flooring
The laminate installers at Royal Flooring also offer vinyl flooring installation. Vinyl is among the most affordable flooring options, and its simple and fast adhesive installation makes it a quick solution that screams convenience. Vinyl flooring is durable enough to support very heavy furniture without damage, is soft and comfortable even on bare feet, and holds up well in extreme temperatures and excessive humidity. For more details on our available patterns, colors, and other options, call Royal Flooring today.
Our team will rip out and haul away your old flooring at no extra charge, and we also offer a one-year labor warranty on our work. Call today to learn more about our excellent flooring install services. We've been proudly serving Mission Viejo and the surrounding area for the past seven years, and our laminate installers bring every one of our customers service they can count on!