When it comes to stone countertops, granite is among the most popular option. This is because granite countertops work wonders for your property by increasing the value, functionality, and beauty of your rooms. Super sturdy and hard, granite is a naturally occurring igneous rock that comes in a very wide range of colors and textures. The stones used for granite countertop installation are imported from locations around the world, bringing you a beautiful selection with a look that varies by region. When you prepare food on your new granite countertops, you are actually using materials that came directly from nature!
If you're interested in granite countertop installation, call the professionals at Royal Flooring today. We will help you pick out the perfect shade and style from an expansive selection of over 200 varieties and install your countertop with skill and precision. We also offer a special on stainless steel sink installation with the purchase of a granite countertop. Call today to learn more.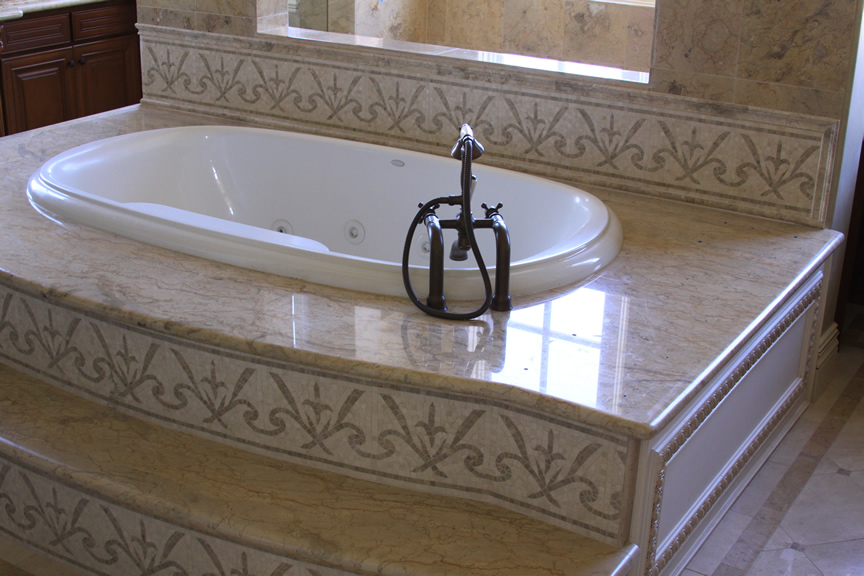 Pros and Cons
All building and home improvement materials have their upsides and downsides, and granite countertops are no exception. Some pros of granite countertop installation include:
Heat and scratch resistance—knives and hot pans can't mar this hard stone.
Appeal for home buyers. If you're trying to sell your home or plan to do so in the future, natural stone countertops help you stand out.
Unique appearance designed by Mother Earth. Just like snowflakes, no two granite countertops are alike!
Versatility. It's great for a kitchen counter top, but it is also a handsome addition to bathrooms, wet bars, and mantels.
The cons of granite countertop installation include:
Cost. They look chic, have a long life, and add property value, but granite countertops cost can be steep. Choosing to use granite tile countertops as an alternative to slab granite may be a great way to obtain the look and properties of granite without the cost.
Maintenance. Granite is a naturally porous stone, which means it requires the occasional application of sealant in order to remain stain-resistant.
The professionals at Royal Flooring will install countertops in both homes and businesses. We offer you complete service, from helping you select the shade and texture of your custom granite countertop to measuring your space to safely and securely installing, shaping, and sealing your chosen stone. Granite can be cumbersome and heavy, especially in slab form, so be sure to trust the professionals to take care of every step of the job. The staff at Royal Flooring personally fabricates all of our granite, and we work hard to only acquire the highest quality pieces that nature has to offer. So if you're interested in learning more about the bathroom or kitchen counter top installation process and how granite countertops can benefit you, call Royal Flooring today.